Simmered in East Coast history, this renowned "Place For Ribs" carries on a legacy with the coziness of Cheers
STUART – Stepping into Bobby Rubino's is like stepping back into the pages of South Florida culinary history, when Jackie Gleason and members of the Rat Pack ruled supreme amid the tantalizing aroma of meats smoking on the grill. Couple that with a power couple's love of people and passion for customer service and you'll be left with the Cheers sensation that you're right at home in a place where everybody knows your name.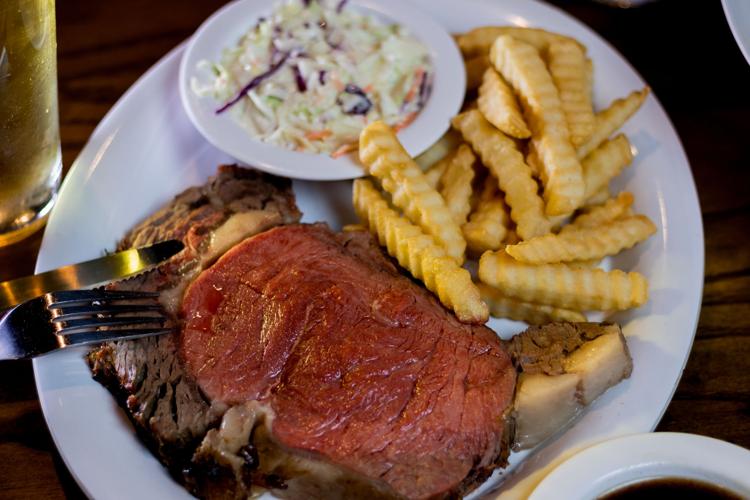 Tom and Allison Lawler spent years in the corporate banking world before relocating to the Treasure Coast to reinvent both their careers and the concept of Bobby Rubino's Place For Ribs, which closed in the 1990s after a successful run on Southeast Ocean Boulevard. Mr. Lawler became enamored with Bobby Rubino's ribs after a best friend from college took over the Pompano Beach establishment, and even had its famous baby back ribs shipped to them wherever they called home at the time. That location ended up being the sole remaining restaurant of a once-familiar chain whose franchises stretched from Miami to New York. Earlier this year, the Lawlers decided to revive the Stuart location as an independently owned and operated restaurant that is closely aligned with their Pompano friend's establishment, from which they gleaned their training, management support and all the original recipes. The rest is simply colorful culinary history.
I visited on a recent Tuesday evening and had to dine alone since my regular dining partner is in Colombia for a few weeks. Even so, my perch at a high-top table next to the bar where patrons enjoy happy hour from opening to close kept me from feeling alone, along with the warm greetings I received from the hostesses upon entering the restaurant and bolstered by the 70s and 80s music in the background. Promptly I was joined by Mrs. Lawler, who gave me brief historical overview of the couple's efforts to create an inviting locale where employees welcome patrons back by name.
"We're a small family restaurant carrying on a historical tradition, she said. "We love our team, we love the place and we're all about the local community."
Mrs. Lawler explained that they purposely divided and separated the bar area from the main dining room with garage-type glass doors that can be retracted into the ceiling should they ever reserve the entire facility for a special event. While on one hand imbuing the bar area where I sat with a unique intimacy, the glass walls also keep the noise from the television monitors out of the dining room on the other hand and so enable quiet conversation to take place even on packed nights.
I began my dining experience here with one of the specialty drinks, the Cocoa Banana, sans the rum since I'm generally a teetotaler. This ended up being a yummy dessert in a glass, which I'm sure would have been even more decadent with the aforementioned rum. Other specialty drinks here include the Razz-Ma-Tazz, a fruity combination of peach schnapps and raspberry flavors, and Mind Over Melon, a frozen beverage crafted with Midori and fresh Florida orange juice. Bobby Rubino's has a full liquor bar with well-seasoned bartenders, a fairly decent wine list and both domestic, imported and craft beers on tap.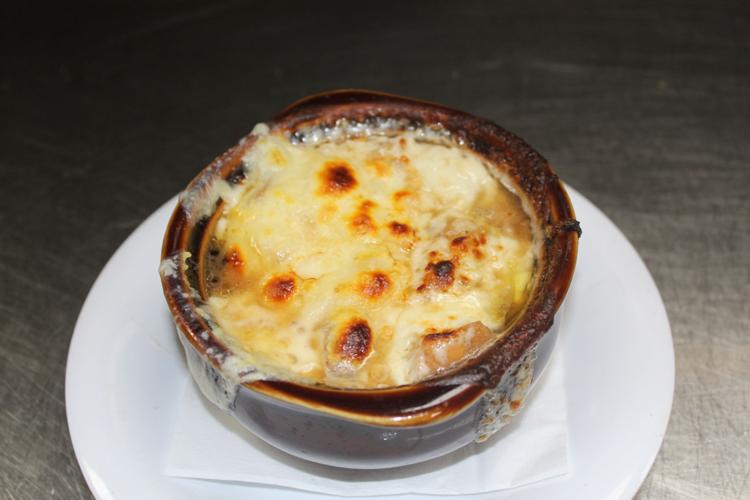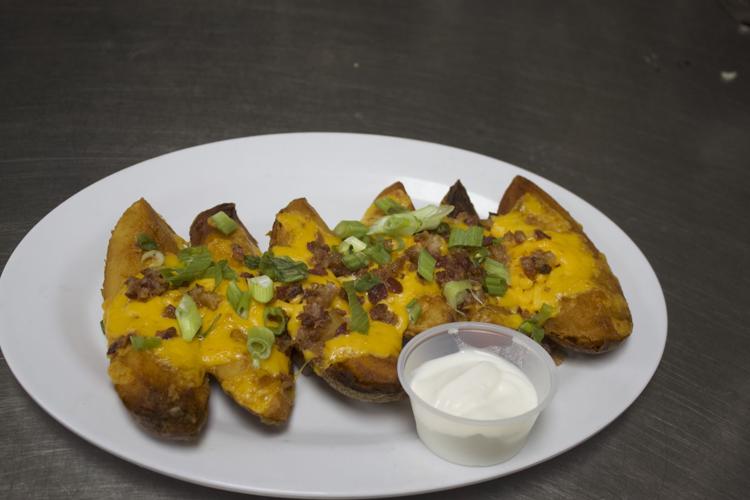 I continued my culinary adventure with the French Onion Soup, which comes in perfectly sized vintage crock covered with melted mozzarella & Swiss cheeses and loaded with caramelized onions and homemade croutons. This was a perfectly sized bowl of soup that left me neither wanting for more or too full to enjoy the appetizer that followed. For that, I opted for Bobby's Trio Loaf (breaded and fried onions coupled with rolls of zucchini stuffed with fried mushrooms). These are served with both homemade horseradish and bistro sauce, the latter a tantalizing mixture of ketchup, mayonnaise and just a hint of horseradish. My server, who'd been a Bobby Rubino's patron prior to joining the Stuart team, insisted I try the homemade Potato Skins topped with cheddar cheese and bacon and slipped me one on the side. The combination of soft, steamy interior and crunchy exterior does make these delectable.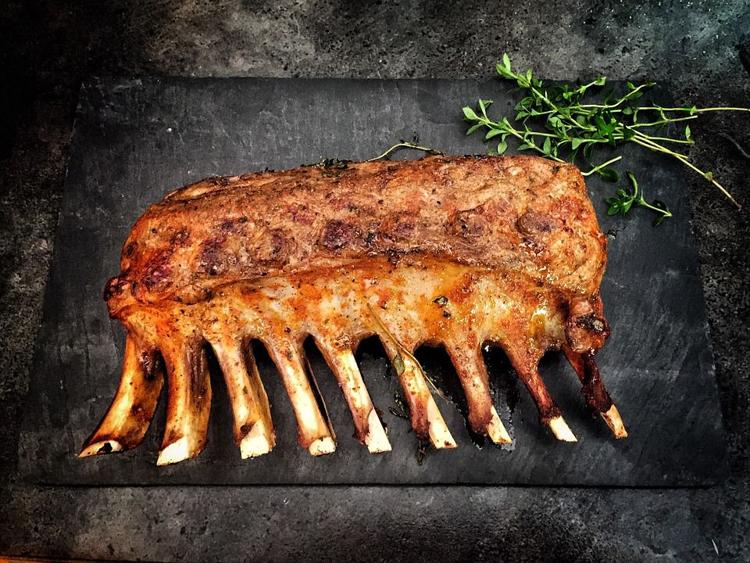 Because I heard that Bobby Rubino's was renowned as a destination for Prime Rib of Beef, I was anxious to try one here and hopefully end what I would call an unsatisfactory run of local prime rib experiences as of late. Unlike most other establishments that only serve this treat one or two days a week, Bobby Rubino's prepares its prime rib fresh daily so you can enjoy one at the drop of a hat. I have been a connoisseur of this cut of beef since my very early adulthood years serving (and enjoying!) it as a waiter in the late 1970s in Redlands, California. I asked for a very small portion so I could also sample the namesake Original Lean & Tender Baby Back Ribs. Bobby Rubino's tender and juicy take on prime rib definitely fulfilled my expectations, while I found the rack of baby backs to be fall-off-the-bone succulent. I ordered the latter topped with the restaurant's regular barbecue sauce and found them to be perfectly smoky with just a hint of sweetness. There's also the option of the sweet bourbon sauce for those who prefer sweet over smoky.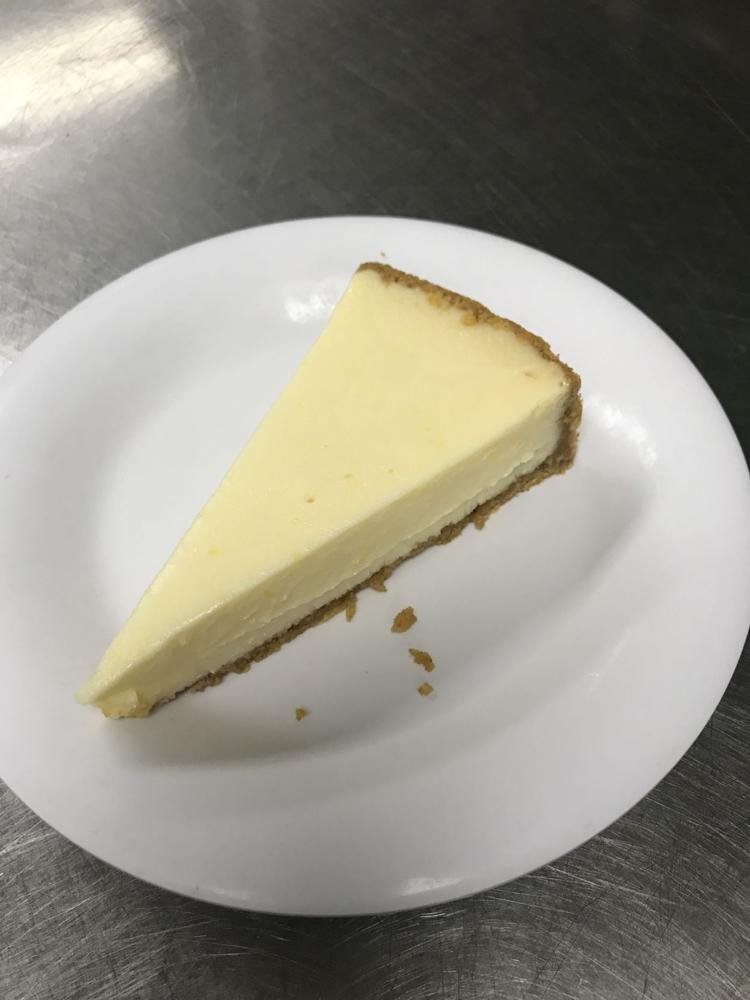 I ended my meal with a delightfully refreshing and light slice of Key Lime Pie, which I found to be the perfect pièce de résistance after so much meat. The owner Tom Lawler told me he orders these direct from the same bakery that serves the Pompano location.
"It's better than in the Keys," he said, and I admit it was delightful. Other desserts here include a NY-Style Cheesecake and the Chocolate Fudgy Wudgy Cake, both of which sound like I'd have needed to save more room. Diners can also choose from six specialty coffee drinks to pair with their deserts, such as the Big Apple combined with Sambuca Romana and Kahlua and the Butter Cream made with Bailey's Irish Cream and Butterscotch Schnapps.
Locals in the know have discovered that Bobby Rubino's has a separate side entrance with three designated parking spots for takeout orders that Mrs. Lawler says have proved very popular, even for customers who dash in wearing their pajamas.
"Our customers and delivery partners love the convenience," she said. "They really like the ease of being able to pull into a designated spot, especially on busy nights, and come directly into the takeout door and see our designated takeout host."
Bobby Rubino's has plenty of well-lit parking on site, along with several handicapped parking spots directly in front. It's located at 3373 S.E. Federal Highway between Indian and Fischer streets in Stuart. For more information, call (772) 600-7016 or visit the website at www.bobbyrubinos.com.