As a travel writer who's covered Florida destinations from the Panhandle to the Keys, I must admit the closest I'd ever gotten previously to Downtown Fort Lauderdale was zipping by on I-95 heading to Kissimmee in the early 2000s to visit my parents from our home near Aventura. Although I'd heard talk of the Las Olas Boulevard shopping and dining district, I had only once unknowingly come very near while on a nighttime tour of the New River in 2005.
That finally changed this year when my wife Gloria and I drove down early this month to the Hyatt Centric Las Olas in the heart of Downtown Fort Lauderdale. Little did I know when I arranged our accommodations that we were only a few steps from the city's famed Riverwalk, with the heart of Las Olas just east of our lodging and the Broward Center for the Performing Arts a few steps to the west. Being in the heart of the action meant we could park the car and forget about it for the duration of our stay due to the ease of walkability and the plethora of transportation options, beginning with the hotel's complementary Tesla service. Others include a free electric vehicle service downtown called The Circuit and waterway options as well.
The Hyatt Centric brand was actually designed around that very concept when it launched in 2015 with 15 such hotels scattered around the globe. The décor and gastronomical offerings of each hotel are tailored specifically to each unique destination. The 238-room Las Olas location is still one of the newest, inaugurated in June of 2020 as part of the 100 Las Olas residential tower, the tallest structure in Downtown Fort Lauderdale. Due to its proximity to both the New River and the Intracoastal Waterway, it boasts a warm, nautical ambience and incorporates Latin flavors in the dishes prepared by the chefs in the Harborwood Urban Kitchen and Bar.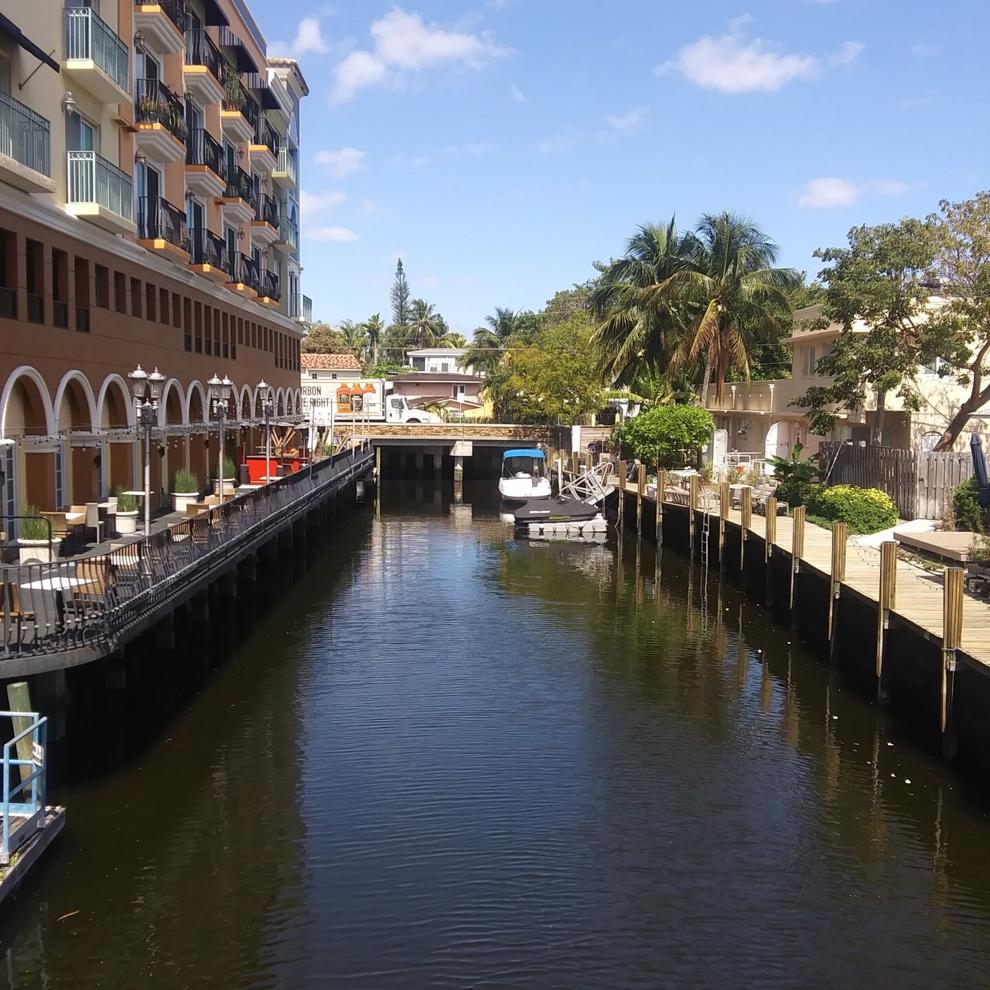 Shortly after our arrival, we took a brief tour of the property and the Elev8 Rooftop bar and pool deck, where I found a very comfortable divan for my early morning coffee the next morning. Gloria and I then made a quick stroll east on Las Olas Boulevard to get the lay of the land before returning to the hotel to prepare for our New River trip down memory lane that evening.
Many years ago when living in the Skylake area of North Miami-Dade, I arranged passage for us on the legendary Jungle Queen Riverboat as my part of my journalistic responsibilities with the Miami Herald Group. We were just newlywed back then, and this latest adventure on the historical company's Island Dinner and Show Cruise coincided with the year of our 20th anniversary. We found it almost identical to our distant memories and equally as enthralling.
Departing at 6 p.m. from the Bahia Mar Yachting Center across from Fort Lauderdale Beach, the River Queen has made the hour-long sail from its berth on the Intracoastal to its own lush, tropical island destination since 1935. Both employees and guests have seen dramatic changes on the banks of the river over the ensuing decades, and the vessel's tour narrators interweave that history into their frequently humorous narratives. Passengers will hear of the escapades of the rich and famous, such as Burt Reynolds and Dinah Shore, who shared both a brief romance and a riverside mansion here in the early 1970s. There are so many impressive homes along the Intracoastal entrance to the New River that it's almost mind-boggling, with a yacht of similar valued docked behind most of them, and for good reason. Nicknamed the Yachting Capital of the World, Downtown Fort Lauderdale offers ease of access from the New River and the Intracoastal to the Atlantic Ocean, with the western tip of the Bahamas sitting only a couple of hours. Our narrator Chris Peralta kept us in stitches most of the journey upriver as we passed through one drawbridge after another, instructed to yell out hello Mr. Johnson to the supposed brothers operating two or three of them. We caught onto him after the operators branched out into extended Johnson Family members and nobody actually returned our greetings. A little more than an hour upriver after passing under the expansive span of I-95 roaring overhead, we docked at the island, where we discovered a bevy of employees had already set up the tables and begun carving up barbecue ribs and chicken for our all-you-can-eat island barbecue. While dining, we were entertained by live performances of throw-back music (mostly from the 1970s) and could hear many fellow patrons singing along. Afterward the cruise-ship-style show began, which featured everything from comedy acts to Polynesian-style dancers and even a talented ventriloquist. There are several colorful birds and an alligator on display around the perimeter of the island, which Gloria and I still found to be amazingly tranquil so close to both I-95 and the Fort Lauderdale/Hollywood Regional Airport to the south. On the way back to the vessel that evening, we viewed historical pictures taken of the cruise since its inception decades ago.
Upon returning to our hotel, we visited a very unusual nightcap destination at the Hyatt Centric known as the 901 Speakeasy, patterned after the probation-era nightclubs when a secret password was the only way to gain entrance to the libations offered inside. All 901 guests must make reservations in advance through hotel staff and then proceed west on the ninth floor to the last unmarked door on the left, knocking twice. Once identities are confirmed, patrons savor a romantic and authentic 1920s ambiance, complete with crushed velvet furniture and period décor. This unique, intimate experience is limited to eight guests at a time, all enjoying uniquely named cocktails and sampling delicacies crafted by hotel chefs.
Early the next morning, I headed out for my traditional morning walk, this time eastward down Las Olas and looping back through a section of the Riverwalk. Here I saw a whole different crowd than the prior afternoon, with college students heading to the Florida Atlantic University campus downtown, businessmen heading to work – some on electric scooters – and people enjoying the many outdoor dining spots for breakfast. After meeting Gloria at the hotel for the same – Harborwood Urban Kitchen boasts one of the most exotic breakfast menus I've ever seen – we headed down Las Olas, where Gloria browsed through boutiques while I cooled my heels on their comfortable furniture exactly placed – it would seem – for patient husbands. My favorite window shopping, however, was at the numerous art galleries downtown. Afterward we headed to the nearest Water Taxi stand to see firsthand how this area got its famed nickname. After cruising eastward on the New River, we headed south down the Intracoastal for a couple of stop stops, including one right next to the Port Everglades cruise ship terminal. Our double-decker taxi then turned north and headed toward Sunrise Boulevard, where you can actually take a short walk to the Galleria Mall if so inclined. At each of the other stops in-between, our vessel employee-turned-tour-guide described the local attractions and eateries. She even enticed us with a few mansions for sale, beginning at the low end around $25 million. The Water Taxi's all-day passes include discounts at several area eateries and other establishments along the route.
That evening after a brief rest at our hotel, we walked the short block to Fogo de Chão, a true rodizio-style Brazilian barbecue restaurant that originally started in that South American nation before first expanding to Dallas. Because my wife prefers not eating a big meal at night, we decided to sample a few small plates from the recently updated Bar Fogo happy hour menu. We began our culinary experience with Queso Assado (fire-roasted Brazilian cheese accompanied by Malaqueta honey) and the Warm Hearts of Palm and Spinach Dip. Both were extremely yummy, and the latter one of the best spinach dips I've ever had. We accompanied those with South American wines before proceeding to a plate of Brazilian sausage and roasted pork ribs. Gloria also visited the Market Table buffet, which had the most tempting array of familiar and unfamiliar Brazilian foods I'd ever seen. Gloria sparingly gave me a few things to sample, including some tiny, sweet Brazilian red peppers and nibs of roasted garlic, both of which got high marks from me. We also savored the perfectly seasoned double lamb chops. All in all, we discovered the Bar Fogo menu to be a very reasonably priced way for the uninitiated to try Brazilian cuisine before diving head first into the all-you-can-eat rodizio experience.
Before heading home the next day, we crossed the street from our hotel to visit the NSU Art Museum, whose permanent collection includes more than 7,500 artworks, a majority of which are produced by female, Latin-American and African-American artists. Anxious to get the I-95 debacle behind us, Gloria wouldn't let me hang around for lunch. That means I definitely need to return, as there are still many Las Olas Boulevard and riverfront restaurants awaiting my gastronomic approval.
Downtown Fort Lauderdale lies less than two hours south of the Treasure Coast via I-95.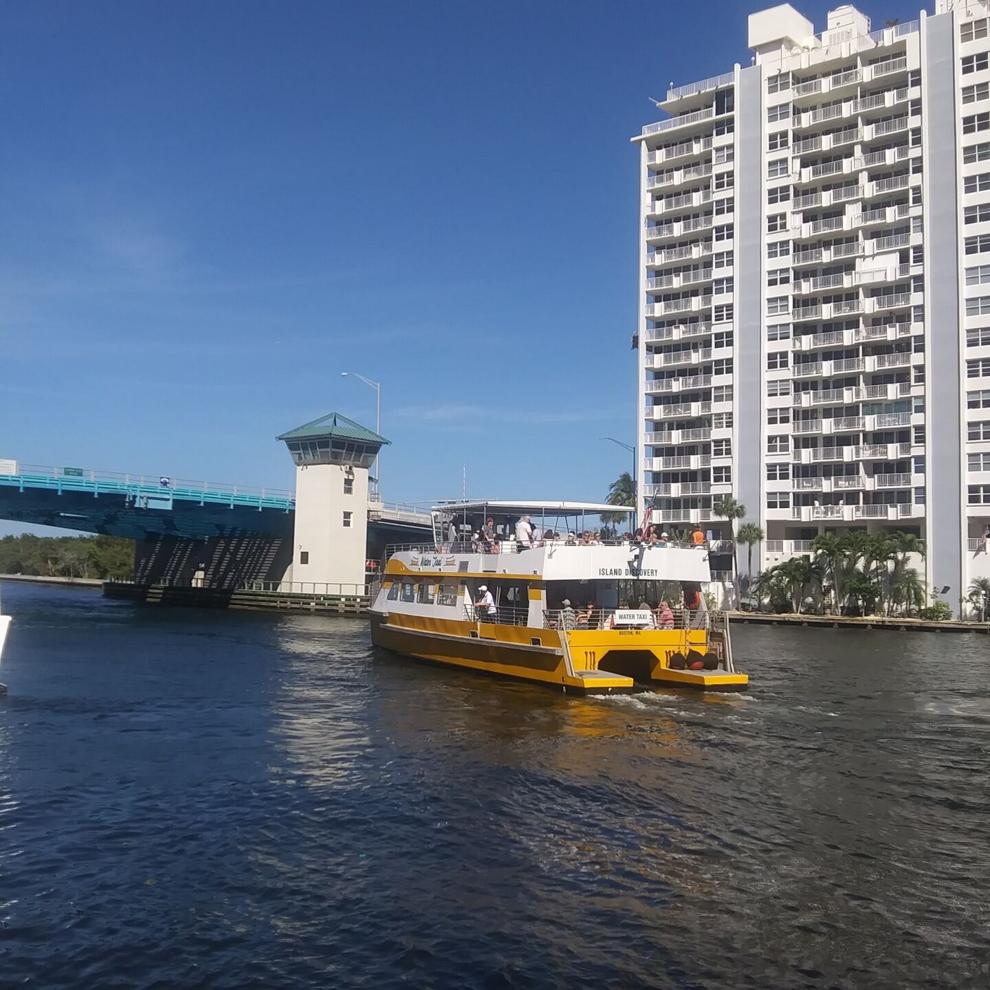 If you go:
General Fort Lauderdale information:
Visit Fort Lauderdale, 101 N.E. Third St., Suite 100, (954) 765-4466, www.visitlauderdale.com; Las Olas Boulevard, (954) 258-8382, https://lasolasboulevard.com; Go Riverwalk, www.goriverwalk.com.
Circuit (free ride service downtown via downloadable app), www.ridecircuit.com
Hyatt Centric Las Olas Fort Lauderdale, 100 E. Las Olas Boulevard, (954) 353-1234, www.hyatt.com/en-US/home
LauderGO! Water Trolley (a free water taxi service serving eight locations along the New River), (954) 828-8000 or visit www.fortlauderdale.gov/home (click on visitors tab and then click on LauderGO! Mobility Services).
Jungle Queen, 801 Seabreeze Blvd, Fort Lauderdale, (954) 462-5596, www.junglequeen.com
NSU Art Museum, One E. Las Olas Blvd., (954) 525-5500, https://nsuartmuseum.org
Publix Greenwise Market (close to Hyatt Centric Las Olas), 255 SE 3rd Ave., (954) 713-6265, https://greenwisemarket.com
Water Taxi, (954) 467-6677, https://watertaxi.com