FORT PIERCE – There's a sign to those who have been in the area a while that fall is near, Halloween is around the corner and the holidays are not far behind..
As soon as I drive along U.S. 1 in north Fort Pierce and notice the Halloween decorations at Dino's Family Restaurant, I know that there is an end in sight to the hot summer days. The idea of warm soup and comfort food is appealing and spending an evening at Dino's, enjoying some good home cooking and then venturing into this year's haunted attraction, is top on my list.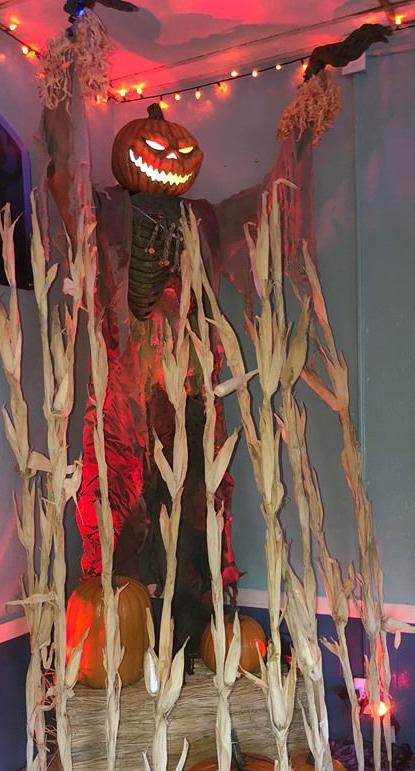 Chris and Darlene Humphreys have been welcoming fall by decorating their restaurant each year with a dash of spookiness, a spoonful of ghoulishness and a heaping helping of the Halloween spirit. Each year, Chris comes up with a new happily haunted theme, while Darlene sits back and lets him turn their cozy restaurant into a spooky spot for all to enjoy.
Each year, Chris decorates the entire restaurant.... Yes, every corner is full of lights and frights. It's really is a sight to see. This year's theme is the "Spooky Haunted Farm," and while there are plenty of things to get your heart pumping, the restaurant and haunted room where the Spooky Haunted Farm is located are considered children friendly.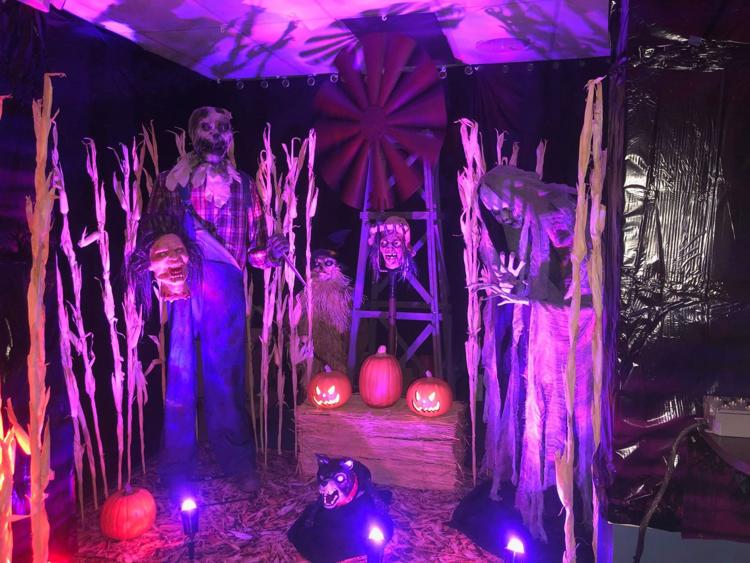 While many diners come to see the decorations, most stay to enjoy some of the comfort food and reasonable prices. The children's menu is full of great choices for the little ones, offering a change of pace from the adult menu.
Adult menu items include chopped sirloin steak with mushrooms and onions; pork cutlet; "howling good" homemade lasagna; fresh wild caught shrimp, scallops and oysters; fall off the bone BBQ baby-back ribs; country fried steak with onions; and southern pork chops.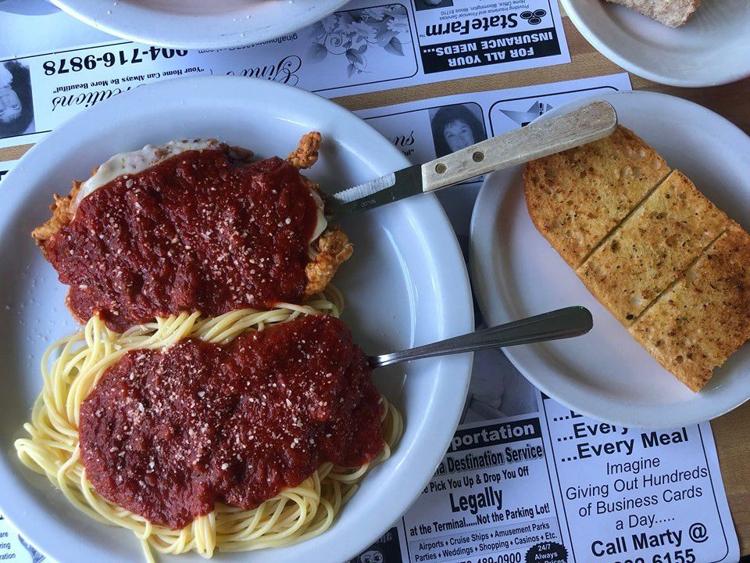 My guest and I enjoyed the lasagna with garlic bread and the chicken parmigiana. Both were cooked to perfection and the serving size is so big, there's plenty to take home. We made sure we saved room for some of Darlene's home made Peanut Butter pie... It's simply delicious.
After our meal, we went on a tour of the Spooky Haunted Farm. It's easy to see this is one of Chris' favorite things. He loves to show off his handiwork and gets a kick out of giving you a little scare.
Spooky tours are given Tuesday-Sunday from 4-9 p.m. through Nov. 1.
Dino's Family Restaurant, which has been open since 1982, is located on the corner of U.S. 1 and Juanita Avenue, just north of North Bridge,.
For more information on the Spooky Dining experience at Dino's Family Restaurant, call (772) 465-5217 or visit them on Facebook. They are closed on Mondays.