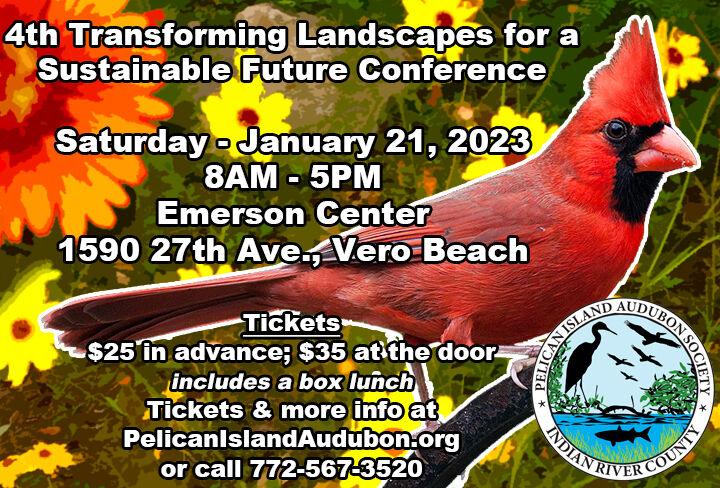 VERO BEACH - Learn to enhance your yard with native plants at the Pelican Island Audubon Society Transforming Landscapes for a Sustainable Future conference, Jan. 21, 8 a.m.-5 p.m., at The Emerson Center in Vero Beach.
According to PIAS, the use of non-native plants that require fertilizer and pesticides has contributed to the decline of the Indian River Lagoon, the St. Sebastian River, and lakes and ponds.
The goal of the conference is to show communities, developments, and individual homeowners how to reverse course on outdoor landscaping, switching to smart landscaping that protects water quality and provides habitat for plants and animals.
The target audience is governments, homeowner's associations, developers, landscape architects, consulting engineers, and concerned residents, especially those planning landscaping.
Conference speakers include some of the nation's leading experts in sustainable landscaping.
Opening the conference at 9 a.m. is Dr. Craig Huegel, director of the University of South Florida Botanical Garden, speaking about how plants work. Dr. Huegel teaches biology at St. Petersburg College. At UF he cofounded the Cooperative Urban Wildlife Extension Program. He is the author of Native Florida Plants for Shady Landscapes, Native Wildflower and Other Ground Covers for Florida Landscapes, and Native Plant landscaping for Florida Wildlife.
At 10 a.m., Dr. John Fitzpatrick, professor and emeritus director of the Cornell Lab of Ornithology in Ithaca, New York, speaks about local ups and downs in bird populations, with analysis from the 'eBird' citizen science data collection project he helped develop.
At Archbold Biological Station in central Florida, Dr. Fitzpatrick was executive director from 1988 to 1995, leading a collaborative study of ecology, behavior, landscape genetics, and conservation of the endangered Florida Scrub-Jay.
After a break, at 11:20 a.m. Dr. Grant Gilmore, the president and chief scientist of Estuarine, Coastal and Ocean Science Inc., talks about lawn grass versus seagrass. Dr. Gilmore formerly worked at Harbor Branch Oceanographic Institution in Fort Pierce, where he participated in seven deep sea expeditions with submarines in the tropical western Atlantic, West Indies, the Bahamas, Cuba, Galapagos, and Central America.
At 1 p.m., following a box lunch included with ticket purchase for those attending in person, Sean Patton, the owner of Stocking Savvy Environmental Consulting in Sarasota, talks about pond side living with native plants and native fish. Mr. Patton believes every backyard can be a flourishing habitat, and every pond a paradise. He utilizes naturally-occurring biological systems and native plant species to restore habitat.
Dr. Larry Reeves, assistant professor at the University of Florida and the Florida Medical Entomology Laboratory in Vero Beach, speaks at 2 p.m. about the biodiversity crisis and the importance of insects. His focus is mosquito diversity, ecology, and biology, and the ecology of mosquito control.
At 3:20 p.m., Timothee Sallin, co-CEO of IMG Enterprises, talks about the effort to mainstream sustainable landscapes in Florida. Mr. Sallin works with developers, home builders, landscape architects, and regulators to shift from conventional to sustainable landscapes.
Pelican Island Audubon Society President Dr. Richard Baker closes the conference at 4:10 with a wrap-up discussion.
Native plants will be on sale from local plant nurseries.
Tickets are $35, including a box lunch. To register online, visit https://pelicanislandaudubon.org/home-page/transforming-landscapes-for-a-sustainable-future-conference/.
For more information, visit www.PelicanIslandAudubon.org, call (772) 567-3520, or email piaudubon@yahoo.com.
The Emerson Center is located at 1590 27th Ave., Vero Beach.